New York City Health and Hospitals Corporation (NYC HHC) – the largest municipal IDS in the US – provides medical, mental health and substance abuse services through its 11 acute care hospitals, five nursing facilities, six diagnostic and treatment centers and more than 70 community-based clinics. HHC serves 1.4 million New York City residents every year, of which more than 475,000 are uninsured.


Reduced A1c by avg 1.8 points across the board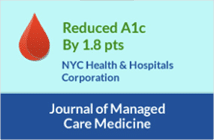 NYC HHC and AMC Health collaborated on the HouseCalls Telehealth Program that has employed remote monitoring solutions in patients' homes to track blood glucose, weight, blood pressure and diabetes self-management parameters. Data was sent to AMC Health's secure web portal, whose clinical decision support tools provided customized alerts for each patient, trending analytics and population-wide benchmarking.
Of the nearly 800 study patients monitored, 81% had significant and sustained improvement in glycemic control with HbA1c reduced by an average of 1.8 points (with those remaining on the program to goal down an average 3.3 points!). 66% of study patients who also had hypertension at baseline had diastolic BP reduced by an average 5mmHg, representing a 21% reduced risk of stroke.